Welcome to Lynches River Kennels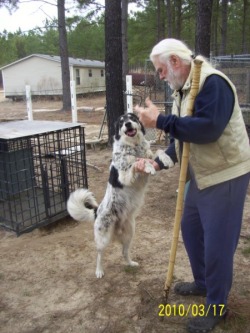 Dr. Don Anderson with Maynard

Welcome to Lynches River Kennels, where we specialize in the rare piebald (black and white) Carolina dog. My name is Dr. Don Anderson and I am the owner, breeder, and developer of Carolina dogs here at Lynches River Kennels. Due to my proud but seldom mentioned Cherokee blood, my color of choice is piebald; the chief's color. I am the chief of my own tribe which lives on the 1,000 acre Lynches River Wildlife Preserve, and I think it only fitting to raise the chiefs' dog." We also carry ginger, cream, and black and tan coated dogs.

Carolina dogs are a rare, prized, and ancient breed dating back thousands of years, and are also known as the Dixie Dingo or Native American dog. Please take a look around the site for detailed photos of my dogs, a detailed description of characteristics, and the rich history surrounding these unique animals.

Our adult dogs are not kept in kennel cages, but rather in large fenced in areas here on my farm where they can behave more like they would in their natural habitat. Puppies are kept in kennel cages only when they are being trained or socialized.

Although Carolina dogs still exist in the wild here in South Carolina, human encroachment is threatening to make that a thing of the past. It is my hope that through education and breeding that the Carolina dog will continue to thrive, whether in the wild or in your home. If you are interested in purchasing a piebald Carolina dog for hunting, breeding, or companionship, please see my detailed contact information below. Links to relevant sites containing information on the Carolina dog are provided on the characteristics page of this site. When you purchase a Carolina dog, you own a piece of history.
-Dr. Don Anderson
owner/breeder/developer

---
Contact Information

Phone:
843-383-4937

Email:
AndersonPropertiesLLC@gmail.com

Dr. Anderson can be reached at (843) 383-4937 preferably after 9:00 pm EST or before 9:00 am EST seven days a week.

Feel free to call with any questions you may have.

All voice mails will be returned promptly.

Purchasing Information
Prices for Carolina dogs range from $800 to $1000. Dogs of all ages are available, including puppies when we have them. Call Dr. Don Anderson or contact Mark Eden for shipping arrangements. Locally you may opt to pick up your dog in person at Don's place located near Bishopville, SC. or Mark's located near Greensburg, IN.

Contact Mark at:
Ancientdogs@aim.com or phone 812 662 4519

Note; In keeping with the old ways of doing business, Don and I honor the barter system. If you have something of equal value that you would like to trade, we will be happy to consider trades.


News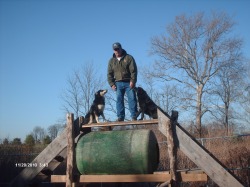 I wish to welcome Mark Eden from Ancient Dogs of Eden in Greensburg, Indiana to the Carolina Dog Breeders. Mark is assisting me in an attempt to breed black and tan Carolina Dogs. Ancient Dogs of Eden is using Mingo, the grandson of my very first Carolina Dog Tadpole, as a starting point. I have also sent two of my piebald females north to Mark and Mingo to hopefully birth a few new black and additions to the Lynches River Kennel family.

Mark also has a large interest in the history of the Carolina Dog and is an avid researcher on the subject. Specifically, he has done some very interesting research on some of the very earliest accounts of Carolina Dog encounters and observations. Some of the information Mark has found is listed below.

In Colonial Virginia, North Carolina, South Carolina, Georgia, Florida, and Alabama what we believe to be Carolina Dogs are documented in the travels and observations of William Bartram. Bartram was a very widely noted naturalist and explorer of the 1700's.

As quoted by the AKC: "As of 1539 (240 years before Bartram), when de Soto's expedition landed in Florida and began their odyssey throughout the Southeastern U.S., there was only one species of domestic animal in North America, the native Indian's dog. This dog was described by members of de Soto's expedition as looking exactly like the wolf except that it barked and the wolf only howled."

Lewis and Clark in the early 1800's said the dogs of the Indians west of the Mississippi were pied or piebald in color.

The basic observations from Mark Edens research have lead us to believe that in the southeastern area of America Indians were the owners of what we now call Carolina Dogs, and most were noted as being black, black and tan, or pied. Although It is impossible to deny the ginger color that is so prevalent today in the breed is noted that along the Lynches River water shed; black, black and tan, and ginger colored Carolina Dogs prevail in order as noted.

-Dr. Don Anderson
---


Mark Eden puppies: